FORSim by FORSight Resources:
FORSim is FORSight Resources' suite of user-friendly, regionally-specific forest management tools. FORSim integrates the growth engine and management functions of growth & yield models within an Excel spreadsheet-based interface. The first release, FORSim-PNW is based on the ORGANON stand simulator used throughout the Pacific Northwest. Now, we have extended the product line with FORSim-LPGS, based on a longleaf pine growth engine suitable for use throughout the Southeast United States. Other variants are under development with the eventual goal of FORSim variants covering most regions of the United States.
Why develop a tool like FORSim?
FORSight Resources was engaged by multiple companies in the Pacific Northwest to modify and extend the functionality of the ORGANON 8.1 growth model. The requested modification involved the creation of a dynamic link library (DLL) which incorporated the western hemlock growth functions of the NWO variant into the SMC variant. This DLL is being made available to companies either currently using ORGANON or contemplating its use in the future. Forest managers also expressed the need for a tool to evaluate stand-level silvicultural options. In response to this need, FORSight developed FORSim-PNW.
Similarly, a project to develop a management plan for a longleaf pine forest in South Carolina indicated the need for a modeling tool to test the suitability of various silvicultural prescriptions for improving red-cockaded woodpecker (RCW) habitat. In addition to the growth engine needed to model silvicultural treatments, FORSight incorporated a habitat rating system to indicate progress towards good quality foraging habitat, a key component in RCW recovery. The result is FORSim-LPGS.
What can I do with FORSim-PNW?
A variety of silvicultural treatments (singly and in and combination) can be modeled with this application:
Fertilization
Thinning

Residual basal area target
Residual trees per acre target
Diameter limit cutting
Stand density targets
User code

Pruning

What can I do with FORSim-LPGS?
With this application, you can model many kinds of thinning practiced in the south:
Thinning

Residual basal area target
Residual trees per acre target
Thinning from below and above
Row thinning

Observe impact on RCW habitat

based on 7 parameters from the GQFH score referenced in the 2003 Recovery Plan for the Red-Cockaded Woodpecker ("the Matrix"):

#14+ pines, BA 14+ pines, BA 10-14 pines, stems, BA <10 pines, #<10 pines, BA 10+ pines, stand age

max score = 35
Is it easy to use?
YES! All management parameters are set using a context-sensitive dialog box & menu system.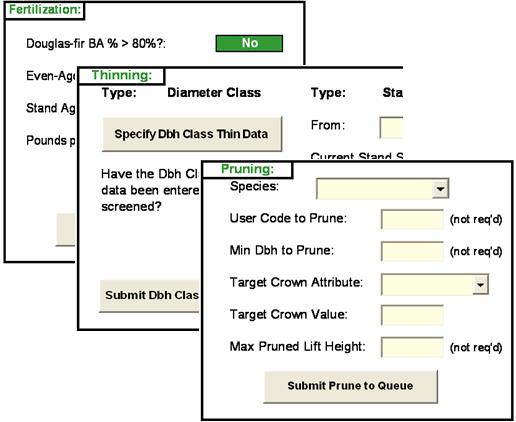 Grown tree lists are output and error-checking is easily facilitated. Graphical outputs include:
Trees per acre
Basal area per acre
Volume per acre in units appropriate to variant (tons in US South, bd foot measure in PNW)
RCW Habitat score (LPGS only)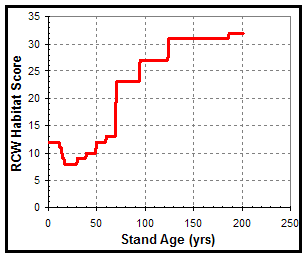 For more information or pricing on the FORSim line of management tools, please contact:
Bruce Carroll
843-552-0717 or send an e-mail.
Custom Programming

FORSight's understanding of programming languages and code structures combined with our industry experience give us the ability to develop solutions specific to a client's needs. We have developed relationships with software engineering companies that keep us cost-competitive while providing clients with the best solutions possible. FORSight can provide customized software solutions to clients desiring enhanced functionality of their current growth models or wishing to integrate growth and harvest planning functionality into their existing information systems.
Contact us today to learn how we can create a customized application to fit your needs..