Digitizing Services
FORSight's GIS department offers digitizing services for initial stand line digitizing and the re-digitization of existing stand lines to improve accuracy. We digitize using a combination of state-of-the-art software tools and old-fashioned heads-up digitizing techniques to ensure accuracy and timeliness. The digitizing is based on imagery supplied by the client or obtained by FORSight on the client's behalf and conforms to all editing procedures and audit guidelines supplied by the client.
FORSight utilizes eCognition as one tool for the digitization of stand lines. The analysis begins with a single pixel object, and then iterates, combining smaller image objects into bigger ones. Heuristic procedures are used to minimize image object variation over a whole scene (portion of a map). Here is an example of the stand lines generated by eCognition after final post processing: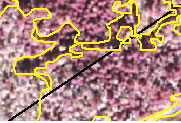 In our stand line correction work, FORSight typically utilizes a combination of the client's existing stand and road lines, current imagery, GPS files supplied by the client, and the lines generated from eCognition, and head-up digitizing as sources when digitizing stand lines. The stand line decisions are made by professional foresters who are trained in the use of GIS and imagery.

General rules when re-digitizing stand lines
FORSight follows a set of general procedures, outlined below, when re-digitizing stand lines. These rules can be followed in their entirety, partially, or with any modifications desired by the client.
When re-digitizing stand lines, lines that seem arbitrary or cannot be delineated using the photo will not be moved. On the other hand, FORSight will move a stand line if it is apparent that it is located incorrectly:

Stand attributes from the original stand layer will be maintained in the new layer, and acreage changes recorded per the client's instructions.
In areas where GPS data are present, FORSight will incorporate GPS features into the new stand layer:

Since the GPS features have limited attribute data, FORSight will carry the appropriate attribute values to the new stand layer. For example, if the GPS feature is a recent clearcut, then attributes such as age, cover type, year, etc. will be updated in the new stand layer.
There are many instances where property boundaries will not match the aerial imagery provided by the client: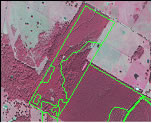 Property boundaries that do not line-up are brought to the client's attention, and FORSight will correct the property boundaries per the client's instructions (e.g., aerial imagery can be used to correct obvious errors and GPS data can be collected for non-obvious boundaries). Since stand and tract boundaries may change as a result of these corrections, acreage values will be updated accordingly.
Roads
Many stand boundaries are formed by roads. Updating the roads layer during stand line delineation adds little to the overall project cost, but yields increased accuracy in road buffering exercises such as the removal of road acreage from gross acreage to product net acreage. Although, an additional charge will be incurred for including road corrections in stand re-delineation projects, this cost is minor relative to the costs associated with undertaking a separate road layer correction project.
FORSight combines new high tech tools to generate base stand line work with the skills of experienced professional foresters. This enables us to provide a superior quality product at a reduced cost to our clients.